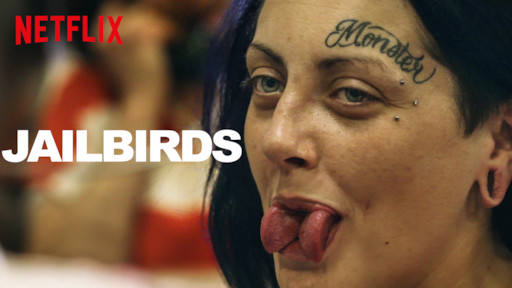 I saw #Jailbirds mentioned in passing online and while on Netflix, it popped up and I decided to check it out and got sucked in. Jailbirds follows the lives of inmates – both men and women – at the Sacramento County Jail. It's officially called a docuseries but I call it by the good ol' name of reality show.
I am not quite sure how producers of this show got the permission and rights to film inside this prison and get inmates to talk but that's for them to figure out. We are introduced to so many inmates and find out what their crimes are before being led into their lives in prison. The first inmate we meet is Yasmin, who is being held for carjacking. We see the intake motions of her being stripped and finding out she can't make bail and has to change to (the quite gross and sometimes reused underwear) prison outfit. We also see the inmates squeal as she is brought in and we don't get to see Yasmin again.
That doesn't matter because there are so many fascinating characters and the best part is the way the show reveals their connections. I think my jaw dropped a couple of times. Even though there are both men and women at the jail, the focus is mainly on the female inmates. We get shown that prison really is no joke and these women do the best they can to get by. We learn about their version of online dating called toilet talk – yup its through a toilet but you have to watch to be amazed by it and how they make their own home made alcohol called Pruno.
Someone asked me what I liked about this show and to be honest, I think shows like this give me perspective. I've always thought that you have to have given up on life to tattoo your face and most of the characters on this show were all tatted up in the face. I digress, but to watch people who want to do better but keep coming back to jail because they feel defeated from birth. One of the characters, Baby Girl had a mom who was 13, dad who was 15 but was taken care of by her aunt who was 11. Honestly, where do you go from there? You don't even want to know what her crime was. The women keep impeding their progress whether by drugs or by their anger that leads to fights.
I know they say that people on reality shows quickly forget about the cameras but I am fascinated by how quickly they forgot and were open and free to the cameras, I'd think they'd be wary because they have something to lose. Even though it is a reality show and might be produced in some parts, this show gave some credence to Orange is The New Black, which I know is based on real life but the antics on Jailbirds were so similar.
You get to know the characters a little better and you start to root for them to turn their lives around, until you are reminded of their crimes and some of them are heinous and you are reminded why they are there and paying for their crimes. This was a quick watch with just 6 episodes, it flies by quickly. All episodes are available for streaming on Netflix.