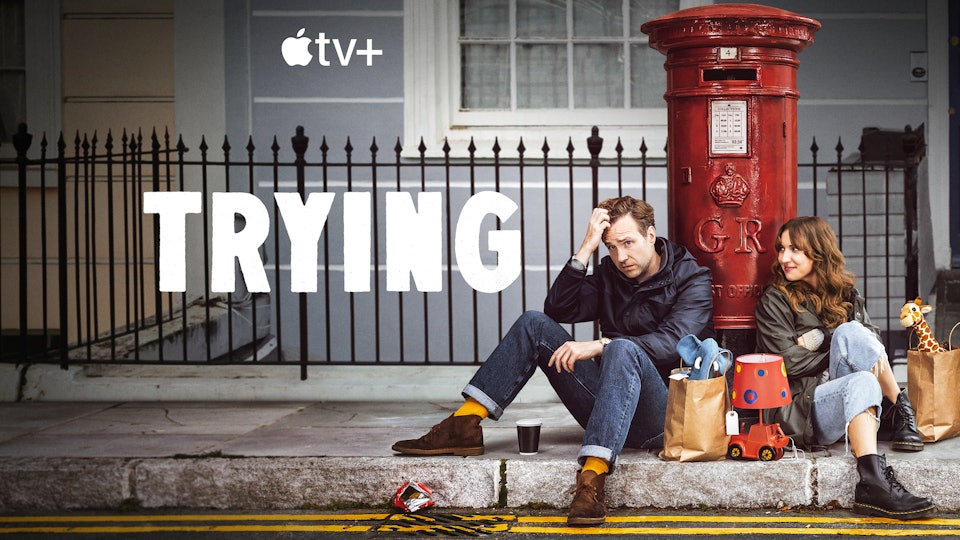 I stumbled across this show looking for another Apple TV + show that I thought had debuted but hadn't yet. I figured I'd give episode 1 a try and ended up binging the whole season.
Trying is a British comedy about couple, Nikki and Jason who have just found out that they are not able to have kids and cannot afford another round of IVF. Nikki decides she would like to adopt and Jason goes along with her and the whole series is about navigating the difficult and thorough process of adoption.
I utterly and completely enjoyed this gem of a show. I hesitate in calling it a comedy because infertility and adoption aren't necessarily fodder for laughs. What I loved the most about this show was how simple and realistic it was while weaving through difficult topics.
Nikki and Jason are simple, modest people. Nikki is a customer service agent for a rental car company and Jason teaches ESL to foreign students. They don't have much money and this is part of the issues they face as they go through the process of adoption. The show sheds light on the realities of adoption and sheds any notion of it being as easy as just picking out a child. It went through the thorough vetting process that allows for Nikki and Jason to discuss their flaws and insecurities.
Nikki was how I always imagined a protagonist in a British chick-lit novel – a bit scatter brained, neurotic and child like. But I absolutely love the relationship she and Jason have. Very pure and real. Even though they face the ups and downs of relationships – temptation, not feeling good enough, family drama – they still have a deep affection for each other that was a delight to watch. Imelda Staunton as their case worker was also an eccentric delight.
Just like most 30 minute shows, the show goes by quickly with just 8 episodes. So one of these weekends, cozy up with some snacks and knock it out your watch list.
Trying is streaming on Apple TV+