Fan Friday – Blue Bloods
taynement, 9 years ago
0
3 min

read
244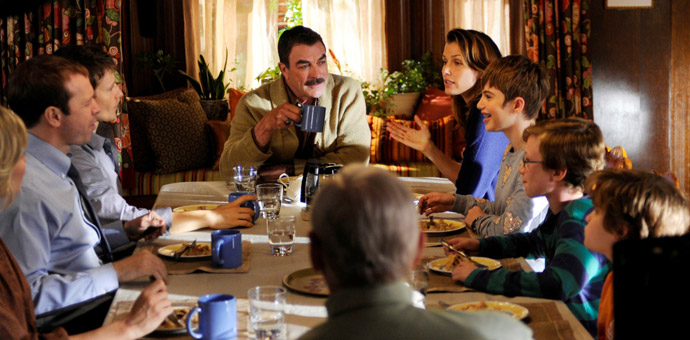 CBS' Blue Bloods is one of my favorite shows on TV right now. On the surface, it seems like another run of the mill American police procedural show, but after watching just one episode you realize that it's a lot more than that. It's a family drama where the members just happen to be cops; think of it as a cross between 'Brothers and Sisters' and 'NYPD Blue'. The blending of a family drama with police procedural really appeals to me. A family of cops where everyone just seems to always end up at Dad's/Grandpa's house. The show follows the close-knit Reagan family aka the first family of Law enforcement as they serve and protect their beloved New York City. The family business often gets in the way of their family relations, but regardless of whatever is happening in their lives, they never miss Sunday Dinner at Dad's house. There are always four generations gathered around the dinner table. These Sunday dinners also happen to be my favorite thing about the show and in my opinion is the very heart of the show. They have the best dialogue and debate the issues raised by their cases. Everyone shares their personal views at the table, hash out professional and personal issues, share laughs and celebrate each other's successes. There's just something about weekly family dinners that tugs at my heart's strings and makes me nostalgic. I can't think of any other show (besides maybe Parenthood) where the familial relationship is really underscored. Don't get me wrong the police procedural aspect of the show is also top notch, but it's the familial aspect that really makes the show shine. They sacrifice much of their lives protecting and seeking justice for other families, but still have so much left for their family. In this era of antiheroes (Mad Men, Breaking Bad, Sopranos, etc), it's kind of nice to have 'real' heroes to root for.
Main Characters:
Tom Selleck as Frank Reagan – Highly principled Police Commissioner and widowed family patriarch. He is a man of few words and strong values. He has three children and 3 grandchildren,
Donnie Wahlberg as Danny Reagan – Frank's oldest son and hotheaded dedicated detective, He almost always pushes the limits of the law, which often gets him in trouble with his prosecutor sister. He is married and has two sons.
Bridget Moynahan as Erin Reagan – Frank's only daughter and an Assistant District Attorney who often handles most Danny's cases. She is divorced and has a teenage daughter.
Will Estes as Jamie Reagan – Frank's younger son and rookie cop. He's a Harvard educated lawyer who quit his cushy law firm career to become a police officer
Len Cariou as Henry Reagan – Frank's elderly father and former police commissioner
Joe Reagan – Frank's youngest son who was killed in the line of duty
Blue Bloods airs Fridays at 10pm/9c on CBS
submitted by Aqua
taynement
Lover of all things pop culture. I see, I think, I write. TV is the favorite child. Reality Shows are my guilty pleasures - without the guilt. So just pleasures? Award Show season gives me a high. Chit Chat with me on anything popculture. You can find me via: Twitter - @taynemendotcom Instagram - @taynementdotcom Email - Taynement@gmail.com Available for freelance writing and sponsored posts.
Related posts
What's Streaming On Netflix
What's Streaming On Netflix – February 2022 [with recommendations]
One month down! It's the month of love so there is a ton of romance content including the…
What's Streaming On Netflix – January 2022
I can't believe we are here again and starting from January. There is a bunch of new stuff that…
What's Streaming On #Netflix – December 2021
And just like that, we are in December. I can't believe it. Hope everyone gets to enjoy the holidays. If…