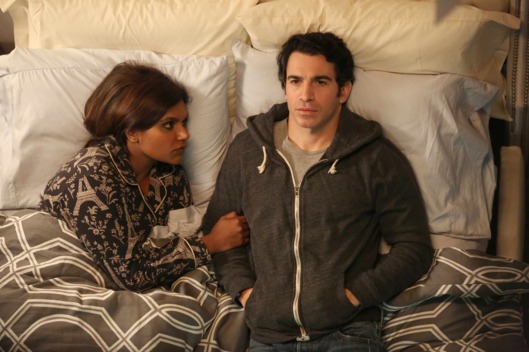 The only part of this episode you really need to care about is the last minute. But let's go through it anyway.
Mindy has grown to love San Francisco, but Danny doesn't quite feel the same. When Rob asks her to start a fertility clinic with him in San Francisco, she's excited but wants to check with Danny first.
Back in New York, Jeremy is sad because Lauren broke up with him and is moving to Texas. Peter overhears him.
Danny surprises Mindy, home for the weekend, with a brownstone in Manhattan that he bought for the two of them to live in. Clearly putting a damper on her potential plans to get him to move to San Francisco. The place has a "Temple of Doom" rat situation, has a pet cemetery, and is an overall mess, but it's the grand gesture that counts.
When Mindy visits the office, no one seems to care that she's back. "Of course she was gone, she was picking up her Nobel Peace Prize," Beverly explains, thinking she's Malala. While she's there she gets all her checkups done. As Peter does her gynecological exam—apparently not an awkward situation—he talks to Mindy about Lauren moving. She unintentionally gives him the courage to go after her.
After a moment at the airport with Lauren, Peter announces to the office that he is quitting and moving to Austin. Hopefully, this leaves the door open for Adam Pally to come back  on the show.
Everyone is upset at Mindy for accidentally motivating Peter to leave. Especially Rob when Mindy tells him she can't start the fertility practice with him, because of the way Danny reacted to Peter's news.
At Peter's going away party, Rob shows up out of nowhere, sees the Bon Voyage sign, and assumes it's her going away party. Mindy tries to stop him, but he excitedly tells everyone about the clinic. Which makes Morgan pass out, classic Morgan. Danny is so angry his New York accent comes out, "oh no Danny you only talk ethnic when you're really furious."
After letting off some frustration at the brownstone, Danny goes to Mindy's apartment to talk to her. They end up not knowing what they are going to do about her moving to California permanently.
Peter says goodbye to everyone at the office, and calls Mindy while he's in the cab. They both realize that they are each other's best friends. And that she's just a little pregnant. Obviously shocked, Mindy falls back on her bed.
Will she use it as a tool to get Danny to move? Propose? More than likely she will keep it a secret, Morgan will find out, then everyone else except Danny. And then Danny will be mad that she didn't tell him. We shall see.