Braxton Family Values: Season 4 Episode 1
taynement, 9 years ago
0
4 min

read
365
This season's recap will be done by Tracider.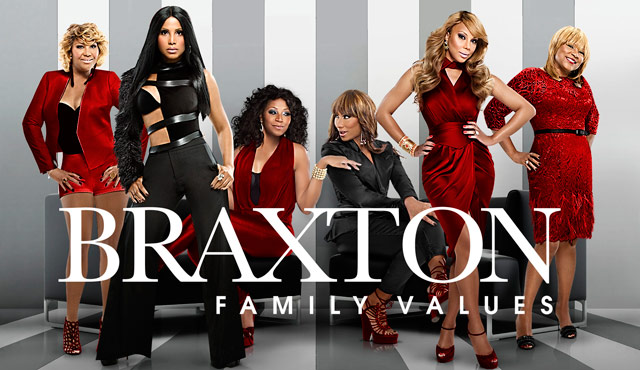 The sisters are back…yippee!!!
I was kinda tired of Towanda and Tamar's beef last season, and from the clips I have seen for this new season, the drama continues (sigh). Since last season, Tracy found out that her husband was unfaithful to her (what is new?), and the girls are still trying to work at making an inspirational album. All I can say from the clips I have seen is "Fix it Jesus."
Anyhoo, let's get down to business. The season starts off with the sisters and their dad hanging in New York on Tamar's 37th birthday to support Toni's return to Broadway. Of course the Diva Tamar comes in expecting her family to have gifts lined up for her. Did not happen. The girls seem like their old loving selves. Even Towanda is talking about celebrating Tamar's day.
Toni is preparing for her debut on a Broadway show with Babyface- God I love these two together. Toni sure loves being a star. Towanda, Trina, Traci, Mama Braxton and Papa Braxton go cake shopping for their lil' diva Tamar. Why did Papa Braxton try to hug their mum??? LOL! He stays trying to bond with her smh. She shut that down quick ha!
They show Toni rehearsing for the show. She sounded okay and did her lil' cute dance. Toni of course always talks about how difficult being a star is…but does great in the end. She is supposed to join Tamar and the family for her birthday dinner, but doesn't make it because of a flare up of her Lupus. Tamar is not pleased about that but the dinner continues. Gabe and Trina are at the dinner and Tamar gets loud about not knowing they were back together. Through the dinner, Tamar insists that everyone should say something nice about her. Trina did her thing; Towanda gives her love speech, Traci talks about Tamar being an inspiration to her…Tamar's head was definitely expanding at this point. Things were great…till this random dude called Charles speaks. He talked about how people say Tamar has changed, but she is still the same person. Trina coughed at the sneaky shade that she felt dude was directing at the sisters – it all went down hill from here.
Tamar insisted that the shade was not for the sisters…Towanda was not having that. First of all, who is Charles that has known Tamar from way back in the day?!!
Toni has to beat her face for her show because her makeup artist could not do her makeup as she was not part of the union for the show. She did a good job with her red lip…she is fine anyway. The fambam was there to support her of course. Toni requested that no one come in to see her backstage…such a diva (rme) Anyhoo, she does well. In the end she was happy her family was there.
They all go out to celebrate her opening night. The question "who is a Tamartian?" comes up and boy did Towanda answer that – "a rude young child on twitter." The group laughed, but Tamar was offended, and defended her fan club. Towanda felt she was cyber bullied by Tamar's fans who said they wished Towanda's kids would get raped and hit by a bus – wait what?!! Towanda was upset that Tamar would defend them over her and her kids. Tamar Vs. Towanda Round 2 ensues. Toni is just tired of the fighting. She refocuses the group to make a toast to her…LOL
Toni decides to have lunch with the family in between her shows to discuss the events from the day before. Tamar of course gets into defense mode saying she won't talk about it. She however brings the birthday situation back. Trina tells Toni the story of Charles the randomite. The back and forth between Towanda and Tamar continues – Lawwwd Jesus! Even Mama Braxton can't put out this fire. Toni decides to leave. Tamar also decides to leave. Trina feels hurt and cries about her sisters fighting. Out of nowhere, Towanda has a major meltdown dude! She freaking smashed the glasses on the table screaming, 'NOBODY CARES ABOUT TOWANDA'S FEELINGS!!!" That was crazy! I don't know how the sisters can fix this…but I believe in the power of sisterly love yo!
taynement
Lover of all things pop culture. I see, I think, I write. TV is the favorite child. Reality Shows are my guilty pleasures - without the guilt. So just pleasures? Award Show season gives me a high. Chit Chat with me on anything popculture. You can find me via: Twitter - @taynemendotcom Instagram - @taynementdotcom Email - Taynement@gmail.com Available for freelance writing and sponsored posts.
Related posts
What's Streaming On Netflix
What's Streaming On Netflix – February 2022 [with recommendations]
One month down! It's the month of love so there is a ton of romance content including the…
What's Streaming On Netflix – January 2022
I can't believe we are here again and starting from January. There is a bunch of new stuff that…
What's Streaming On #Netflix – December 2021
And just like that, we are in December. I can't believe it. Hope everyone gets to enjoy the holidays. If…