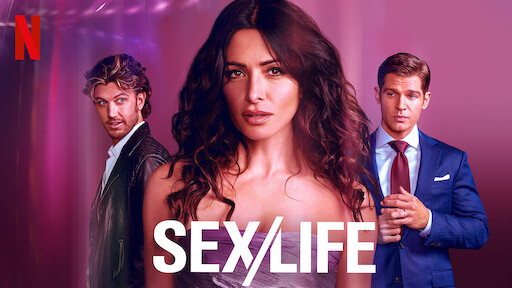 Netflix knew what they were doing with this title. You can't get more attention grab-by than this. Sex/Life is a story of a suburban wife and mother, Billie (Sarah Shahi) in Connecticut. She is married to the straight and narrow but kind Cooper (Mike Vogel) and they have two beautiful children. But, Billie finds herself discontent as Cooper takes her for granted and she realizes that the every day routine is not enough for her.
Billie starts journaling her feelings and reminiscing about her wild, younger days and more specifically about her time with her ex, Brad (Adam Demos). She gets really specific about their time together including the loads of sex they had but things get to a head when Cooper discovers her journals and questions everything about their marriage.
Based on a book, I found this adaptation to be a fun watch. There were so many questionable moments but overall you can't take every show so serious and it completed the assignment of being entertaining. The most dominant emotion I felt was frustration at Billie because the back and forth of making a choice gave me whiplash.
I didn't fault her for questioning because I am sure this is a common feeling but there will always be bigger and better out there but adulting is being true to yourself, making a choice for what's best for you but Billie seemed to want to eat her cake and have it too. The situation was so messy with her best friend in the mix that it just seemed like she was craving chaos.
I think I'd feel different if I felt Brad was a changed man but I think he was still into mind games and some of his actions weren't particularly kosher. That being said the chemistry between Billie and Brad was undeniable but par for course that usually is the case in a toxic relationship. Fans of Unreal might recognize Brad from Seasons 3 and 4 of the show. No surprise here as both shows share a producer in Stacy Rukeyser.
Don't watch this show with your parents or if you get shy at sex scenes because it is quite graphic. This includes the much talked about shower scene that involves full frontal nudity and allegedly did not involve a prosthetic. Art imitated life as Sarah Shahi and Adam Demos are now currently dating in real life (You may remember Shahi from The L Word where she had her fair share of sexy scenes too. She was also married to Steve Howey who played Kevin on Shameless. They recently divorced after 11 years of marriage)
As mentioned above, I think the show took it to the extreme leaning into the bad rap narrative marriage gets (except her husband was pretty open and receptive! which just made it more frustrating). I know I have feelings about the black best friend but I will be honest and say I didn't know what those feelings were but I do know that I thought about the idea of focusing on her for season 2 and exploring her dissatisfaction/satisfaction however it plays out if she got married and made the marriage in her own terms.
Overall, I recommend the show. It has a little bit of everything – thought provoking, steamy, salacious and it's great binge watch material. Have you watched the show? What did you think?