My Guilty Pleasure – Twinning
taynement, 7 years ago
2
2 min

read
156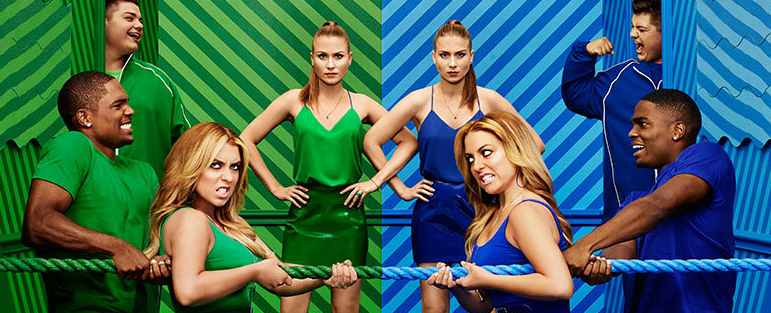 You betcha it's a reality show.
Twinning is a show that consists of 12 sets of identical (codependent) twins who reside in a (ware)house that is split into two. The green house and the blue house (as seen above). The twins aren't able to see each other (even though they can hear each other through the walls) and are only able to see each other if they place in the top during the physical competitions, which are also done with a wall division so they can't see each other.
Okay, hopefully you are still with me. Sets of twins separated and can only see each other if they place in the top during competitions. Good. So, if you win you are able to roam between both the blue and green houses and spend time with your twin. Which doesn't sound like a big deal but these twins get so distraught not being able to see each other. The winners determine which 2 sets of twins go into "the twin-off". The Twin-Off – this is when both sets gets asked questions such as "If I got a tattoo right now, what would it be of?" and both twins are supposed to have identical answers. The first to get to 5 wins and returns to the house.
See, I am as fascinated as much as I am freaked out by identical twins and there was no way I was going to miss this show. I did but used labor day to catch up on  all the episodes I missed. Just looking at how identical they are, the bond they share and how they can think alike is very very intriguing. There is a set of twins who happen to wear the same thing each time they meet and they never plan it! Honestly, while I watch I really don't know which twin I am watching because that's how much they look alike.
If nothing else, this is a good show to watch that's easy and also shows how twins can be so identical and yet so different. Give it a shot and tell me what you think. Twinning airs on VH1 Wednesdays at 10/9c
taynement
Lover of all things pop culture. I see, I think, I write. TV is the favorite child. Reality Shows are my guilty pleasures - without the guilt. So just pleasures? Award Show season gives me a high. Chit Chat with me on anything popculture. You can find me via: Twitter - @taynemendotcom Instagram - @taynementdotcom Email - Taynement@gmail.com Available for freelance writing and sponsored posts.
Related posts
What's Streaming On Netflix
What's Streaming On Netflix – February 2022 [with recommendations]
One month down! It's the month of love so there is a ton of romance content including the…
What's Streaming On Netflix – January 2022
I can't believe we are here again and starting from January. There is a bunch of new stuff that…
What's Streaming On #Netflix – December 2021
And just like that, we are in December. I can't believe it. Hope everyone gets to enjoy the holidays. If…