My thoughts on the Golden Globe Nominations
taynement, 10 years ago
2
5 min

read
647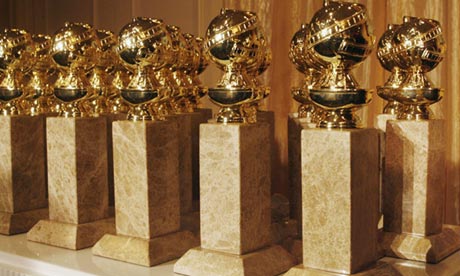 As you may well know, award season is my season. Award season makes me giddy from predictions to nominations to the actual awards. Today was nomination day for my favorite award show. I like the Golden Globes because it just seems fun. They serve them dinner and drinks and they sit in round tables and the crowd just seems loser and not as stuffy as the Oscars (which might actually be my least favorite). One of my biggest gripes with award show nominations is how there's some sort of group herd mentality. Like the critics/actors come together and decide on the select few they will nominate and we see the same names every single time. Granted some are deserving but more than that they overlook more deserving people. As I was saying, the GGs are different because they are made up of the Hollywood Foreign Press who seem to march according to the beat of their own drum. You never know what to expect with them, they are kind to new shows or the willneverconsiderthem (eg Keri Russell won for Felicity) regular award show don't even glance at the CW. Granted shows like The Wire or Friday Night Lights were never recognized by them but they are better than the rest. I also like that its a TV and Movie combination. Here are a few thoughts on nominations.
When all award shows turn their back on Leonardo DiCaprio, the Golden Globes always has his back. Speaking of Best Actor nominees, I just don't want Bruce Dern to win. I don't even want to watch Nebraska but seeing as he is front runner, I might have to. sigh.
I haven't seen Fruitvale Station but I believe the word that Michael B Jordan did a good job. Why then is he being ignored? They probably should have released the movie later so it is not forgotten. I believe Idris Elba stole his spot. I was surprised he got a nom given the lukewarm review about the movie.
American Hustle seems to be the Silver Linings Playbook of 2013, not so far fetched given the same director and 2 of the same actors. I am buying whatever they are selling. I wanna see it.
Again I haven't seen Fruitvale Station but I was hoping Ryan Coogler would get a directing nom. He was only 26 when it was shot (not that that should be the criteria) but its impressive.
Sigh, Best Foreign Language Film. Blue is the Warmest Color is the front runner and boy I got to tell you, hype got me to see that long ass 3hr movie and it is overhyped. It's not a bad movie don't get me wrong but it's not worth sitting in the theater for 3 hours. I already liked The Past based on previews and because it's the same guy who did A Separation, which was so good.
Weird Julia Louis-Dreyfuss was nominated for Enough Said (my 2nd fav movie this year) and James Gandolfini wasn't. Even though I am not a fan of post humous nominations, I think he made the movie.
Best TV Series – How does Downton Abbey keep sneaking in? Why was my beloved Mad Men shut out?
Homeland was COMPLETELY shut out. I am not mad at it not being in best TV series, it is not deserving for this season but at least Mandy Patinkin should have been recognized.
Speaking of shut outs, it's like besides Peter Dinklage, award shows act like GoT doesn't exist. I am not complaining though. I am one of the crazies who isn't crazy about the show.
They really need to turn off the Girls hype and stop nominating it for best comedy. It's not even a funny show. Do award shows realize Mindy Project is on TV?
Tatiana Maslany (Orphan Black) was FINALLY recognized and deservingly so. What this chick does playing clones is amazing. Taylor Schilling is on here (best actress drama) cuz of hype cuz there are way better actors on OITNB. I chuckled at Kerry Washington's nom, like "aww that's cute". I don't think she's of the same calibre as the Robin Wrights and the Julianna Marguileses. Lizzy Caplan from Masters of Sex should have had one of their spots.
Best actor in a drama. *takes deep breath* this pains. it really does. But they shut out my Jon Hamm. Like shut.him.out. How rude! I mean I have been patiently waiting. First Damien Lewis came and reduced our chances. Then Bryan Cranston came in. I'm finally like ok Breaking Bad is going off air so we might have a chance. Now from nowhere Jeff Daniels is getting the awards – I mean c'mon! Jeff Daniels should just be filler! – ok so I watch Masters of Sex and I am like dammit Martin Sheen is going to be a problem for us, so I wasn't surprised at his nomination but then who ruins it for us? Liev Freaking Schreiber in his disjointed boring Ray Donovan show. So yes, I blame him and Yes, I am pained. Wooo-saaah.
I'd like to identify those who still watch Nurse Jackie.
I am not sure I will ever understand the nominations of Jason Bateman for Arrested Development.
Chiwetel and Idris Elba are double nominees in both TV and Movie. very nice. except losing both will be double the pain.
Best Supporting actor in a series, miniseries or TV is the toughest category for me. Everyone here is very deserving. Really stoked for Josh Charles and Corey Stoll. Finally.
Best actress in series, miniseries or TV. My joy knew no bounds seeing Monica Potter's name. She slayed her role on Parenthood last season but herd mentality at the Emmys didn't let her get nominated. So glad for Hayden Panettiere too. The best actress on Nashville.
Speaking of the GGs need to break down the supporting roles. Kinda makes no sense that people in tv, miniseries or movies are competing against each other.
Let me know if you have favorites or any GG thoughts you might have. I'd love to hear it!
taynement
Lover of all things pop culture. I see, I think, I write. TV is the favorite child. Reality Shows are my guilty pleasures - without the guilt. So just pleasures? Award Show season gives me a high. Chit Chat with me on anything popculture. You can find me via: Twitter - @taynemendotcom Instagram - @taynementdotcom Email - Taynement@gmail.com Available for freelance writing and sponsored posts.
Related posts
What's Streaming On Netflix
What's Streaming On Netflix – February 2022 [with recommendations]
One month down! It's the month of love so there is a ton of romance content including the…
What's Streaming On Netflix – January 2022
I can't believe we are here again and starting from January. There is a bunch of new stuff that…
What's Streaming On #Netflix – December 2021
And just like that, we are in December. I can't believe it. Hope everyone gets to enjoy the holidays. If…